Anaerobic Digesters
We are focused on the need to deliver practical, well-defined, and measurable anaerobic digester solutions on time and on budget. We are here to help you achieve your goals and see you through the confusing landscape of vendor solutions.
Azura is not a technology, product, or equipment supplier. We are engineers and scientists who have been providing services and consulting to owners and operators of anaerobic digestion, biogas, and renewable natural gas (RNG) systems across the USA and Canada, South America, and Europe for almost 30 years.
Having experience with food and organic waste, wastewater, municipal source-separated organics (SSO), and on-farm digestion systems, we bring a breadth of expertise and a technical depth to the areas of biogas and biomethane generation that few consultants can match. Azura has used this combination of experience to provide expert litigation support services related to a major anaerobic digester facility.
Using our proprietary, evidence-based methodology, we help biogas system owners where others have failed. Our tiered approach to biological health monitoring has identified anaerobic digestion malnutrition issues. Our staff have developed custom anaerobic digester trace element blends for major multinational firms. However, in our experience, when properly sampled and analyzed, most of the anaerobic digesters tested do not need trace metal supplements.
Detailed digester feedstock testing and analysis has helped identify acutely toxic and inhibitory feedstocks. In addition to simple feedstock testing, we have a process to identify the root-cause of slowly degrading biogas or biomethane production due to the chronic build-up of inhibitory chemicals in the digester over time.
Real-time health monitoring of your anaerobic digester biology is now possible. We can use these tools to provide near-instantaneous feedback on changes to the feedstock and identify toxic feedstock deliveries resulting in poor biogas production.
State-of-the-art process engineering tools and biological system simulations are a core part of the Azura toolbox of resources we can bring to your facility. We have been working with dynamic bioprocess simulations for almost three decades. The system simulation tools can provide insight into the dynamic biological methane potential (BMP) of your system and future biogas production, incorporating your diverse feedstocks, pretreatment technology, and multi-stage digester operations.
Renewable natural gas (RNG) upgrading facilities usually work as intended to upgrade biogas to biomethane. However, sometimes the inlet gas composition differs from what was originally anticipated, or other factors result in the biogas upgrading plant not achieving nameplate RNG production levels. We have used our chemical engineering troubleshooting skills to identify, diagnose, and then resolve issues of reduced biogas throughput resulting in poor RNG production.
As a client-centric firm, we are professional, approachable, and use plain English. Our problem-solving approach is firmly rooted in solid science and evidence-based solutions, not guess work or unproven additives. Simply put, "Better testing, better data, better decisions".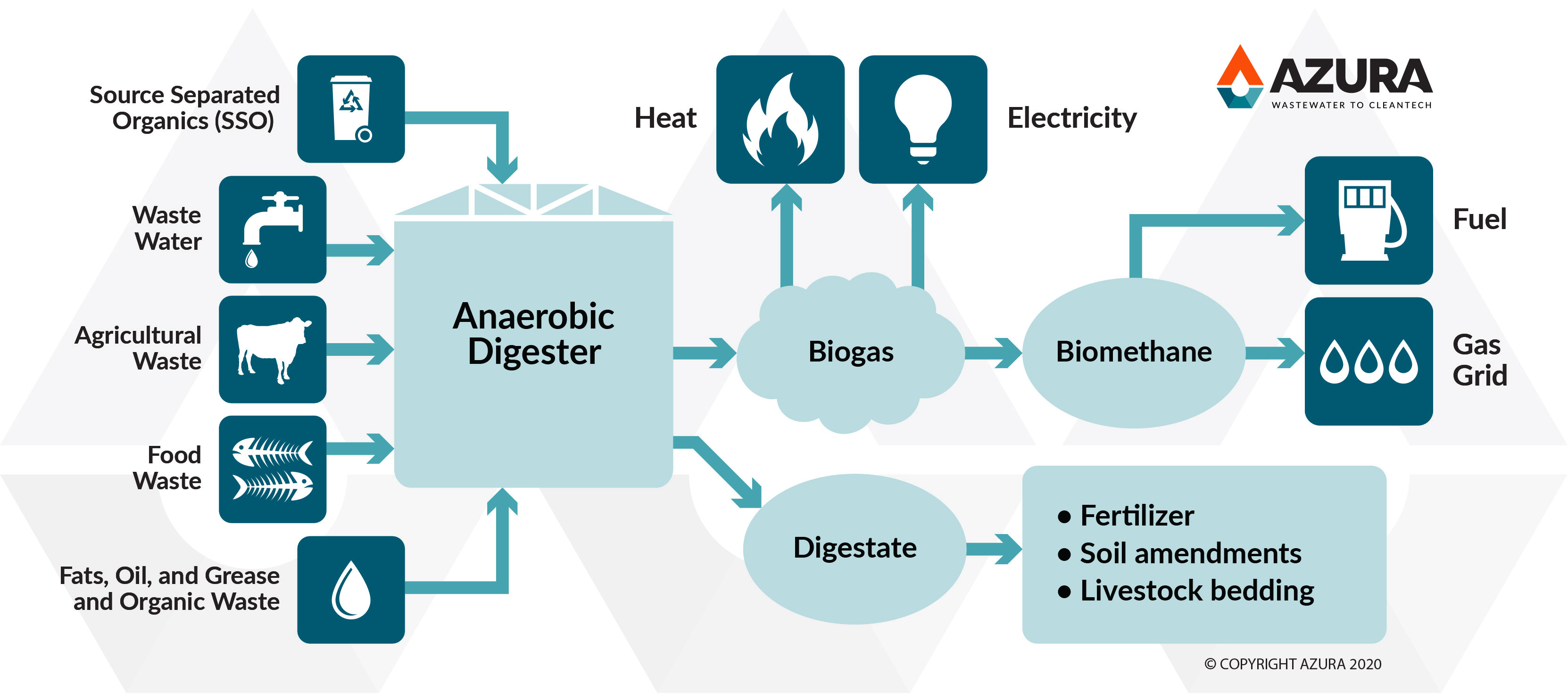 Testimonials
"A dead digester, not producing any gas, that's what got us to start working with Azura. Starting with detailed laboratory testing, Dave's processes pinpointed the problem and got our digester back to 80% production in only two months. Azura's ongoing monitoring had us hit full production a few weeks after that. Once we were stable they developed a feedstock recipe to maintain stable production. We have high methane content, and no foam. Since then, even with engine issues, we've averaged more than 90% production. Their emphasis on better testing for better decisions really pays off."
– Michael H., Owner, Food Waste Anaerobic Digester
"Good digesters run on good data. Dave and Azura helped us get better data on our two digesters so we could make better decisions. Regular testing of our digesters helped us manage our feedstocks, balance their nutrition, and avoid ammonia and LCFA toxicity problems. Good biology, balanced nutrition, and stable operation have helped us avoid serious foaming problems. He helped us improve our biology. Easy to contact by phone or text or email, Dave and Azura really made a difference."
– Brian A., Dairy Farmer