Troubleshooting
At Azura, we are known for delivering practical, customer-focused, expert solutions. By focusing our effort on the heart of your process systems, we can provide unparalleled results for troubleshooting and optimizing your process, achieving stable operations, and reaching your business goals.
As engineering consultants, we have seen how numerous types of processes and facilities can end up in trouble. Over more than 30 years, our staff have developed and honed a proprietary process troubleshooting methodology for tackling challenging wastewater and anaerobic digestion issues.
We know regulatory non-compliance, unscheduled downtime, and costly upsets can result from a process issue. Our interventions are designed to get your system in compliance and operating under optimal conditions quickly and safely.
The process diagram gives an overview of this approach. Every troubleshooting project begins by engaging with your staff and performing a detailed evaluation of the available data. The trust of your staff is critical to the success of any troubleshooting engagement and is essential to getting your system under control quickly. That is why, at Azura, we refuse to point fingers at individual operators.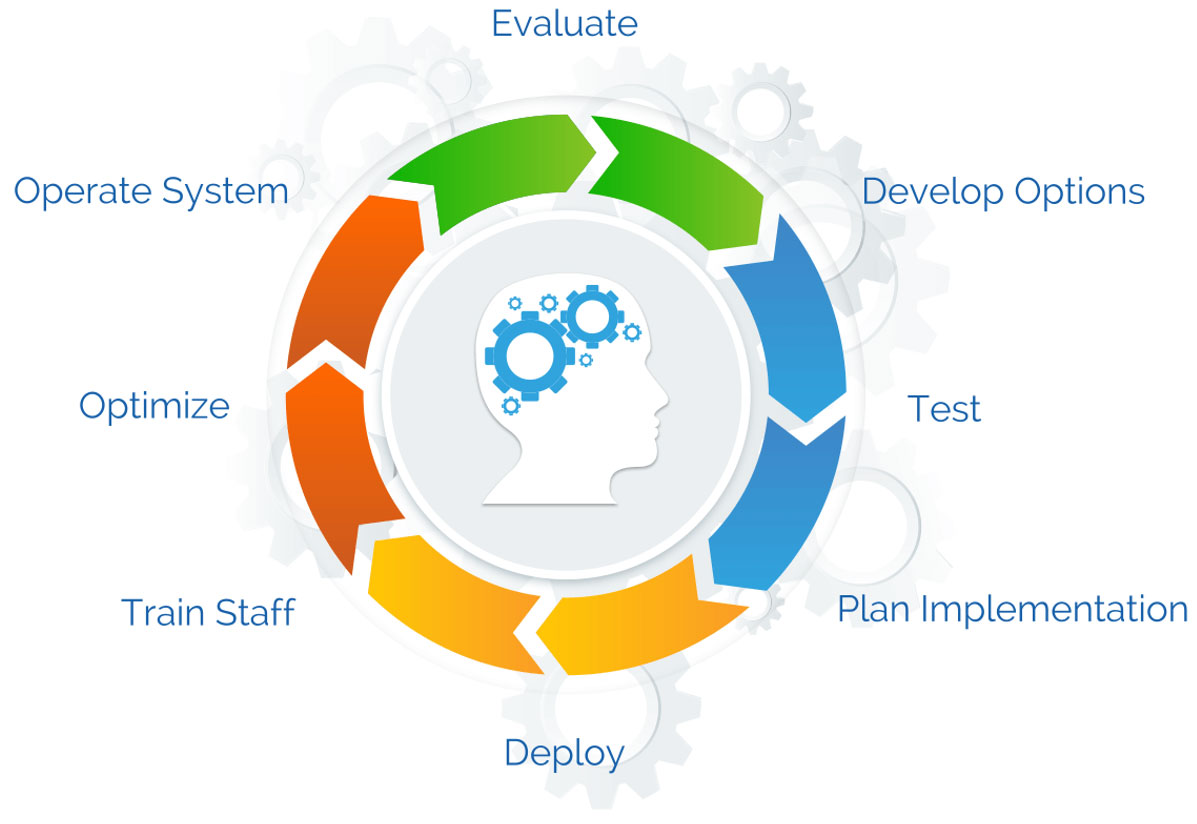 When analyzing client data, our evaluation includes not only what the data says about your process, but we also evaluate the quality and reliability of the data itself and weight the data accordingly in our work. We consider the variability that can be introduced through sampling location & technique, transportation, sample storage, and even analysis methods. Sometimes the laboratory analytical methods used to evaluate high-strength samples can be affected by positive or negative interferences due to other compounds in the sample.
Where warranted, further information can be gathered through specialized laboratory testing or onsite measurements. Specialized testing can be in the form of bench-, pilot-, or full-scale treatability testing, Toxicity Identification Evaluations (TIEs), and Toxicity Reduction Evaluations (TREs). For sample integrity and data quality reasons we prefer to undertake treatability testing and pilot trials at client facilities—close to the processes generating the material being evaluated. If needed, we can leverage long-standing relationships within the scientific and engineering communities to make appropriate laboratory facilities available to suit any client need.
Based on this comprehensive assessment, we then formulate options for your review and test assumptions. Testing assumptions and validating the planned intervention before committing to full-scale implementation is an important part of our engagements. The additional data generated during the validation step helps us get your system closer to the optimal settings faster.
The total body of evidence collected to this point allows us to further refine the planned intervention. This refinement step gets your system operating under optimal conditions quickly and safely using our implementation plan built on a rock-solid foundation of hard evidence.
Depending on your process, full-scale validation and full-scale stress testing of operating facilities may also be appropriate. These tests can often pinpoint additional opportunities for future process debottlenecking and cost savings.
With the detailed implementation plan proven, we move to deploying the permanent solution with a high degree of confidence, training your staff, optimizing your processes, and delivering a robust, high-functioning system.
Testimonials
"Our fleet of plants produce very challenging wastewater for our biological activated sludge system to treat. Starting almost 20 years ago, Dave has supported our wastewater treatment operations, whenever we have needed him, across several sites. Process design and optimization, troubleshooting, technology evaluations, detailed testing and operator training—I've come to rely on Dave's advice and guidance in many fronts. Trusted for his real-world experience, the practical advice really sets him apart."
– Abraham M., Environmental Systems Manager, Rendering Facility
"A dead digester, not producing any gas, that's what got us to start working with Azura. Starting with detailed laboratory testing, Dave's processes pinpointed the problem and got our digester back to 80% production in only two months. Azura's ongoing monitoring had us hit full production a few weeks after that. Once we were stable they developed a feedstock recipe to maintain stable production. We have high methane content, and no foam. Since then, even with engine issues, we've averaged more than 90% production. Their emphasis on better testing for better decisions really pays off."
– Michael H., Owner, Food Waste Anaerobic Digester
"Good digesters run on good data. Dave and Azura helped us get better data on our two digesters so we could make better decisions. Regular testing of our digesters helped us manage our feedstocks, balance their nutrition, and avoid ammonia and LCFA toxicity problems. Good biology, balanced nutrition, and stable operation have helped us avoid serious foaming problems. He helped us improve our biology. Easy to contact by phone or text or email, Dave and Azura really made a difference."
– Brian A. – Dairy Farmer